Pictured above are the three Corvettes I have owned in the past and how they looked when I sold them and moved on to my next "project". Below I will fill you in on the details of their evolution, and some of the notable events where they were at, or notable awards earned during my ownership. Well, here we go ......
1978, where it all began ! My very first Corvette. It's hard to believe that back then you could purchase a brand new Corvette with a list price of $12,900, and a whopping out the door price of $11,600 !!. Course, that was pretty close to what my first job was paying right out of high school ! Anyway, I was a newbie at buying new cars, and had my choice of this Red/Red Coupe or a Light Blue/Dark Blue Coupe for the same price. 1978 was Corvette's 25th Silver Anniversary, and there was a striking Two-tone Silver Annniversary Edition sitting there for around $16,000, and even one 1978 Corvette Indy 500 Pace car Edition - one that the Dealer was taking bids for starting at a whopping $25,000 !!! While I really liked the Pace car even then, that was crazy money, and I was fine with the Red/Red Coupe !
After a year or so, I became board with just driving a "stock" Corvette around. This was my first foray into customizing Corvettes, so I took several "radical" approaches and when I look back, sometimes I just have to snicker (ok, laugh) at some of the things I did to the car. While the look changed each year, what I call "Stage 1" was to simply apply some white pinstripe tape to the car, paint the black slots of the aluminum wheels red, and replace some engine parts, like the air cleaner assembly and valve covers, with aftermarket pieces from suppliers like Edelbrock. "Stage 2" became a little more challenging - adding some aftermarket fiberglass pieces, like a rear wing, front spoiler, a stainless steel "halo" panel from Roman's Chariot Shop (local customizer) and side exhaust. My now ex-wife decided to surprise me with new custom seat covers that included the Silver, Claret, and Gold colored stripes that eventually made it onto the body paint scheme. First as wide stripes just painted over the stock red paint, and then becoming more subtle when I had the entire car repainted.
Don't laugh too much, but here are several phases of the car during my ownership..... the early days ! Two things to point out, yes, in the center photo, that is a CB radio antenna sticking up from the T-Bar, and to the right, yes, that photo was taken on my wedding day back in 1982 ! Those "things" hanging from the string going around the car started out as real nice Wedding bells, and this is what the car looked like when it made it to the wedding !!! On this day, I gave up attending my Corvette Club's 25th anniversary party ... looking back, I'm sure I picked the wrong event to attend that day ! (lol)
Finally, "Stage 3" included some engine mods - pulling off that intake manifold and carb and installing a Chromed Tuned Port Injection system from a C4 Corvette, complete with engine computer, new distributor, electric fuel pump, and all the sensors needed to make this thing run. The car also had the new ground effects and updated front spoiler added when the it had a total repaint. This time with the more subtle striping over Torch Red, the color from the newer Corvettes.
The car ran GREAT compared to the stock motor, however I have to admit fuel economy just was not what it used to be (lol). You can see several looks - on the very top of this page you will see how the car looked when it was sold. Above, in this section, is a view of the car when it had the earlier Crager wheels, and Hooker chrome sidepipe exhaust before getting the ground effects and front spoiler. Looking back, I think I liked this look better than with the body kit.... not sure....you be the judge!
In 1980, at the early days of ownership before I really got rolling down this path, I decided to take to the car show scene. I began what turned out to be a Car show circuit tour of some 28 years, competing at the local, regional, and national Corvette club levels, and then spanning out to those "special" Corvette events that we all know, like Corvettes at Carlisle, Corvette VetteFest, Mid America FunFest, attending events at the Corvette Museum, and numerous others. I also purchased an open trailer at first to carry my car to the shows, moving up into enclosed trailers for even more protection from the elements. Of course my towing vehicles of choice were only .....Chevrolet Silverados !
By 1987, I was tiring of this car and about out of things to do to it creatively to keep me excited. I sold the car to a friend in the local club, but when he sold it I lost touch with it and have no idea of it's wherabouts today.
---
1985, honing my skills... When the new "C4" generation of Corvettes were introduced in 1984, I did'nt really like them that much. Gone were the "Coke bottle" design swoopy fenders and the rear fascia just looked like someone just chopped it off. But by the time 1988 rolled around, it had finally grown on me. I found a low mile, one owner (lawyer owned) White 1985 Coupe with a somewhat rare Blue leather interior sitting on a local lot in Maumee, Ohio and picked it up. This was one of those "buy in the fall, sell in the spring" things, so for a period of time I owned both the '78 and '85. I enjoyed driving this car much more than the '78 - I could actually drive it for more than 2 hours at a time without getting leg cramps, or burning my legs from the heat that seeped into the interior along the tunnel. Fuel economy and drivability was much better on what the auto magazines were calling a "World Class Sportscar" at the time.
I followed the basic "3-Phase" approach as I did with the '78. But this time around it was a little different. I was now living in a suburb of Toledo, Oh, called Sylvania, and wouldn't you know it, I was about 3 miles from this big Corvette shop called American Custom Industries. ACI is the largest fiberglass aftermarket manufacturer of Corvette parts (fenders, bumpers, ground effects, hoods, you name it they make it), have an excellent mechanical, body, and paint shop onsite, and really know how to make a #1 class winning car for you. We grew our relationship, and my ideas and theirs led to the design and development of several new prototype parts which eventually made it onto their production inventory. I began attending numerous shows with the guys who would go to vendor areas at the large shows with their box truck and setup many of their Fiberglass parts for show and sale to the public. Then the opportunity came to get a Paxton Supercharger at a good price and had that installed for a little extra "boost" of horsepower. The "theme" of the car was a takeoff on a Chevrolet marketing campaign, the "Heartbeat of America", and it had "The Heartbeat Corvette" graphics to tie that in. By the time the photos above were taken, the body had been updated with the look of the later model C4-s (1995 timeframe) and the custom parts from ACI.
I also honed my competitive skills at Corvette shows, learning the little tricks around detailing a car, which really meant not driving it on the road that much once you spent hours cleaning every nook and cranny, pulling the wheels off to clean inner fenders and brake rotors and calipers, using "tools" like Q-tips and dental pics, and vacuming out all of those little pieces of lint ! More trophies started to appear at shows....but at some point it was time to move on, and this car now lives across the border in Michigan. I see it usually once a year when the new owner crosses back across the border to Ohio and attends the annual Corvette show at ACI which I usually attend.
---
1998, the Ultimate years ! Now when the C5 generation of cars came out in 1997, unlike the previous generation, I really liked them. But I was not yet done with leading the crusade in my '85 and there were one or two more tweaks I could make to the car to keep it competitive. Also, back then, there was usually a several year gap from introduction until the aftermarket really caught up with parts to customize your car. Nowadays it seems parts are out on day one when a new car is introduced.
So in 2000, I found a low mileage 1998 Silver Coupe with Black Leather. While a nice car, this car was definitely driven by it's first owner. You could see the front lower ABS spoiler had skimmed quite a few parking lot curbs, and the driver leather seat had the usual wear on the bolsters. By this time, I had the financial means to really focus on this car and make it a true 1st class show car. Working with the guys at ACI once again, new fiberglass body parts in the works, and some yet to be designed made it to my car. Underhood Chrome, as well as painted and carbon fiber parts were installed. Obviously new wheels, stainless steel exhaust, custom two-tone Black/Red interior, and full body repaint with integrated graphics wrapped up the package. Ultimately, the hood was replaced once more to a higher profile version to allow the installation of a fully polished Magnussen Supercharger.
Campaigning this car was a pleasure.... it won awards at almost every event it attended, and in addition to class wins, won awards for Best Paint, Best Interior, Best Engine, Sponsor's Choice, and Best in Show. It was during these years of Concoursing, that I picked up the affectionate nickname, Waxrboy, by my club companions who traversed the state / country with me to go to all of those events, just for the sake of picking up "points".
One of the high points of recognition was for the car to be selected to appear in a calendar, the American Sportscar Calendar, August 2007. The photo shoot occurred in the yard of a fellow Corvette club friend, and the photo crew and model, Alicia, traveled up from their base of "Hotlanta", Ga. In addition to my car, there were three other club members with their 1986, 1995, and 1998 Corvette Pace cars that participated in the shoot.

Roughly 300 photos were taken that day at various locations in his yard, with several wardrobe (lol) changes. To the left is the photo taken while I was scolding Alicia for touching the car..... ;-)
But the ultimate recognition was having the car selected to be on exhibit in the National Corvette Museum for no less than 6 months during 2006.

The photo to the right was taken during the 2006 Labor Day event at the Museum. I was just in the "right place, right time", while the car was on display in the Skydome for the "Mild to Wild" Custom Corvette exhibit, with the three past / living Chevrolet Corvette Chief Engineers, Dave McLellan (seated) , Dave Hill (standing left), and Tom Wallace who stopped to pose for an official photo shoot being taken by the NCM. I was in attendance and admiring my car, when all of a sudden this photo op just formed in front of me!
Annually, the car received some type of "facelift", whether to the engine, interior, or exterior, to keep it looking fresh and correct any imperfections that were being caught by judges the prior years. But, when 2005 came along, the urge came to start considering a new C6 generation car. These cars just leaped over the C5 as far as performance and build quality and Chevrolet had it in their mind to really make this a sports car that could challenge the likes of Ferrari and Porsche ! Plus, 2006 marked my 50th birthday year, so that made for a good excuse to buy one ! Due to garage space concerns this time around, the dual-car ownership period was pretty short, and the '98 now has a great home across another border, Canada !
---
What I own today !!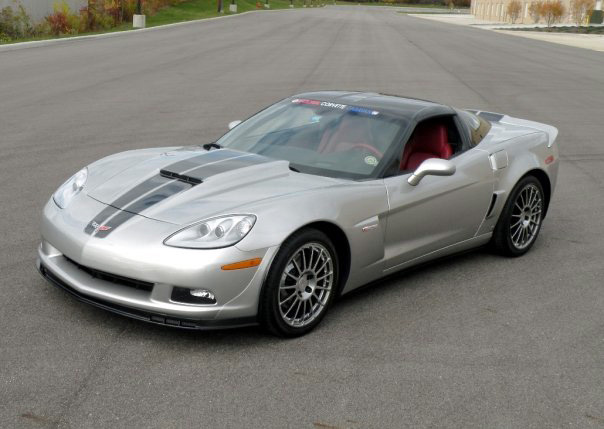 2006 - The current project ! So I did fulfill my goal of buying my 50th birthday present.... this time a Silver 2006 Coupe, with Red interior, purchased new from Ogden Chevrolet in the Chicago area. I shopped around online this time and found just the car I wanted within driving distance, and went to close the deal and trailer it home. I had originally had an order in for a Yellow Coupe with Two-tone titanium interior, but after a long wait, the dealer finally admitted he was not going to be able to fulfill the order, so I had to scurry around to find a car that would meet my needs, one key need being that it is a 2006 model ! After seeing the Red interior of the C6 that really turned my direction to the Silver/Red combo.
Out of the box I started planning customizations to this car. But this time around, after those 28 years of Concoursing my cars, I made a decision to finally retire from the heavy show scene (or what remnants actually remained in the area) so this was going to be built as a "street custom". I had won almost every event at one time or another, and frankly the local and regional Corvette club scene was finally wearing thin, with them basically just abandoning the Concours events and moving more to the "cruise and shine" events, which did nothing for me.
That meant no super chromed engine, no super detailed undercarriage, but something that was modified to a "classy" look and that could be easily maintained for those rare occassions where I still wanted to go to the big shows with my friends from ACI, or just head to the local car cruise-in, and even drive the car to work on nice sunny days.
For this generation, the hot thing today is to simply unscrew your fenders and quarter panels (no joke) and bolt on aftermarket replacements to make the car look like the more expensive Z06 Corvette, complete with wider fenders, wider wheels and Goodyear tires, and unique fender and brake cooling ducts. Add a custom hood, ground effects and spoilers, silver Kevlar carbon fiber dash kit, and some mild custom pieces under the hood with fresh paint around and it was all set to go ! My own Automatic transmission Z06!
Pictured above left, is a version of the car prior to the conversion to the Z06 wide body kit, taken while attending the "Performance Tour II" hosted by the National Corvette Museum. This was a rather pricey, limited attendance charity fund raiser event, and one of the key visits was to tour the GM Tech Center, in Milford, Mi. and get several "controlled" pace laps on the famous Milford Proving Ground test track.
The current version of the car also participated in the 15th Annual National Corvette Museum Caravan to the 2009 Labor day event in Bowling Green, Ky. Numerous caravans from across the country left their states and headed for the Museum, arriving over several days leading up to the event. Thousands of Corvettes were on hand for an event to remember ! This was the official unveiling of the recent expansion of the NCM and what an event it was ! And this was really one of my first cross-country trips.... actually driving it .... on the road ..... without the enclosed trailer.
Today I enjoy driving the car and attending those far and in between shows that I mentioned, but it can be made "show ready" with only several hours of detailing.. Many people look at the car and are not sure what it really is - maybe because of the custom fender badges that say "C06" (my blend of stock C6 and Z06) ! Some have even thought it was a ZR1. The car is once again undergoing some winter updates at ACI, so stay tuned to see the unveiling in April !! If you are at an event where you see the American Custom Industries truck, stop by to say hi, I'll probably be there too !
When I bought this car I told myself, since it was a gift to myself for my 50th Birthday I would keep it forever..... well..... at least until the C7 comes out !! (lol)
---